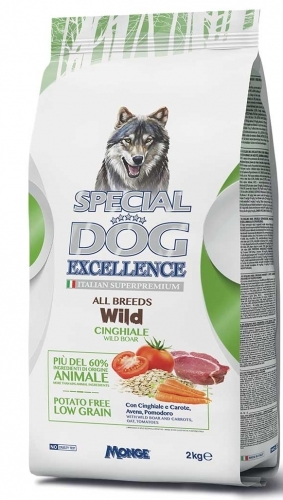 Wild – Wild Boar
Weight

:

2 kg

Special Dog Excellence Wild Wild Boar is an innovative range created to feed your dog "as nature intended".
Wild recipes have a low grain content and contain more fresh meat, selected specifically for this range. Tasty food that ensures the animal's well-being and respects its natural instinct.



Nutritional Information
Wild boar (fresh 10%, dehydrated 30%), yellow peas, animal fat (lard, preserved with natural antioxidants), tapioca starch, rice, oatmeal, beet pulp, hydrolysed animal proteins, brewer's yeast (source of MOS and vitamin B12), whole egg powder (1% in noble proteins), linen seeds (1%), dried carrots (1%), dried tomatoes (1%), insoluble pea fibre, yucca schidigera, spirulina, pineapple stem, ginseng, dehydrated apple, dehydrated blueberries, dehydrated cranberries, dehydrated raspberries, XOS (xylo-oligosaccharides 3 g/kg), hydrolysed yeast (MOS), hydrolysed cartilage (source of chondroitin sulphate), hydrolysed crustaceans (source of glucosamine), methylsulfonylmethane.
Crude protein 29.00%, Crude oils and fats 17.00%, Crude fibre 2.50%, Crude ash 7.00%, Calcium 1.00%, Phosphorus 0.90%, Omega 6 essential fatty acids 3.00%, Omega 3 essential fatty acids 0.70%. Metabolisable energy: 4,200 cal/kg.
Nutritional Additives/Kg: Vitamin A 28,000 IU, Vitamin D3 1,700 IU, Vitamin E 570 mg, Vitamin B1 13 mg, Vitamin B2 17 mg, Vitamin B6 8 mg, Vitamin B12 140 mg, Biotin 19 mg, Niacin 75 mg, Vitamin C 200 mg, Pantothenic Acid 20 mg, Folic Acid 2.60 mg, Choline Chloride 3,600 mg, Inositol 3.50 mg, E5 Manganous Sulphate Monohydrate 32 mg, E6 Zinc Oxide 150 mg, E4 Copper Sulphate Pentahydrate 13 mg, E1 Iron Sulphate Monohydrate 110 mg, E8 Sodium Selenite 0.20 mg, E2 Calcium Iodate 1.80 mg, L-Carnitine 200 mg, DL-metionine technically pure 11 g.
Technological Additives/Kg: Natural blend of tocopherols and extracts of rosmarinus officinalis.
It can be used as it is or moistened with lukewarm water. Doses may vary according to the specific needs of some dogs. It is important that the dog always has fresh, clean water available. Complete dog food.