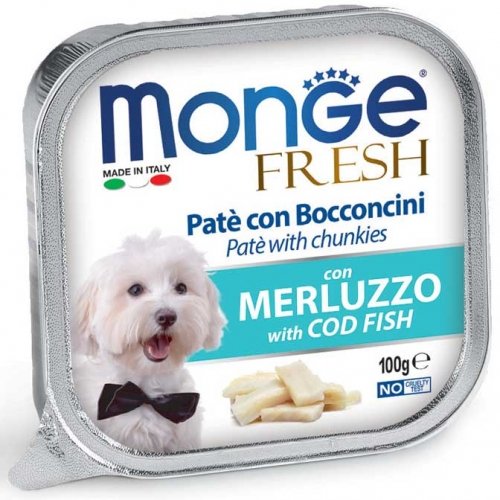 Paté and Chunkies with Cod Fish
Weight

:

100 g

The delicious paté with fresh codfish is a complete food selected to support every day the well-being of your animal. The recipe has been formulated with a low sugar content and without hydrogenated fats. The soft and tasty paté with chunkies is ideal for small dogs and as a treat for bigger dogs. Monge Fresh is Made in Italy, No Cruelty Test and without artificial dyes and preservatives.




Nutritional Information
Meat and animal derivatives 50%, fish and fish derivatives 30% (fresh codfish 10%), minerals.
Crude protein 9,0%, crude fibres 0,5%, crude fat 7,0%, crude ash 1,2%. Moisture 82,0%.
Nutritional Additives/Kg: Vitamin A (Retinyl Acetate) 3000 IU, Vitamin D3 400 IU, Vitamin E (all rac-alpha-tocopheryl-acetate) 15 mg.
For a medium size dog (10-12 kg), 600-800 grams of product daily, shared in 2 meals. To be served at room temperature. Leave always available to the animal fresh and clean water. Refrigerate unused portion and consume within 3 days. Keep in cool and dry place. Do not open the alutray, if it is swollen.