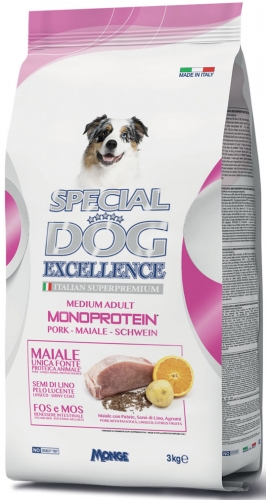 Monoprotein – Medium Adult – Pork
Weight

:

3 kg

SPECIAL DOG EXCELLENCE MEDIUM ADULT MONOPROTEIN* ADULT DOG PORK.
Special Dog Excellence is the product line created to offer only the best for your dogs.
A complete pet food formulated with ingredients, which guarantee every day the wellbeing of our four legged friends. *Formulated with a unique animal protein source, the pork, highly digestible and highly biological value.
The recipe contains linseed, source of omega-3 fatty acids, which can support the shine of coat, orange, natural source of vitamin C, and FOS and MOS (fructooligosaccharides and manno-oligo-saccharides) to support the regular intestinal transit and the balance of bacterial intestinal flora.




Nutritional Information
Dried pork meat (30%), potato (15%), maize, animal fat (pork lard purified at 99.5%), dried beet pulp, hydrolysed animal proteins (pork liver), linseed (1%), citrus pulp (oranges 1%), brewers' yeast (source of manno-oligo-saccharides – M.O.S. 1%), yeasts products (F.O.S. – fructo-oligosaccharides 0.75%), Yucca schidigera.
Crude Protein: 27%, Crude fibre: 2.7%, Crude fat: 14%, Crude ash: 6.7%, Calcium: 0.7%, Phosphorous: 0.7%, n-3 fatty acid 0,5%.
Nutritional Additives/Kg: Vitamin A (retinyl acetate): 23,000 IU/kg, Vitamin D3: 1,700 IU/kg, Vitamin E (all-rac-alpha tocopheril acetate): 190 mg/kg, Vitamin C (ascorbic acid): 200 mg/kg, selenium (sodium selenite 0.44 mg/kg): 0.2 mg/kg, manganese (manganous sulphate monohydrate 32 mg/kg): 10.4 mg/kg, zinc (zinc oxide 150 mg/kg): 120.4 mg/kg, copper (copper(II) sulphate pentahydrate 13 mg/kg): 3.3 mg/kg, Iron (Iron (II) sulphate monohydrate 110 mg/kg): 36.2 mg/kg, iodine (calcium iodate anhydrous 1.7 mg/kg): 1.1 mg/kg, DL-Methionine technically pure: 1,600 mg/kg, L-carnitine: 100 mg/kg.
Technological Additives: Antioxidants.
Recommended daily feeding ration, may split into 2 meals (see table). Individual nutritional requirements may vary due to size, age and activity level of the animal. This is a guideline only, and may need to be adjusted as required to maintain optimal body condition. Please transition to new pet food over a period of 1 week. Be sure to have a clean, fresh water available at all times. *It may contain traces of other sources of protein. Pet food only, not suitable for human consumption.