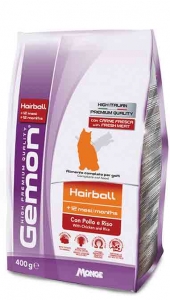 Hairball with Chicken and Rice
Weight

:

400 g

Complete food for cats who suffer more than others, the accumulation of hair in the stomach, facilitates the expulsion. For adult cats from the age of 1 year. The optimal ratio between omega-3 e omega-6 ensure a valid support in combating allergic reactions. Also enriched with yucca schidigera which helps reduce odour of feces.






Nutritional Information
Cereals (rice min. 4%), meats and meat by-products (of which fresh chicken min. 8%), corn gluten, oils and fats (Chicken oil 0,5%), hydrolyzed chicken liver, fish and fish by-product, salmon meal, Salmon oil, vitamins, Taurine, DL-methionine, minerals, yeasts (mannan oligosaccharides MOS 500 mg/kg), F.O.S. (Fructooligosaccharides) 500 mg/kg, Yucca Schidigera 1.000 mg/kg.
Crude protein 32,00%, Crude oils and fats 12,00%, Crude fibre 2,50%, Crude ash 6,00%, Calcium 1,25%, Phosphorus 0,80%, Omega 6 essential fatty acids 10,00% – Omega 3 essential fatty acids 1,50%.
Nutritional Additives/kg: Vitamin A (as Retinyl acetate) 25.000 I.U./kg, Vitamin D3 (as Cholecalciferol) 1.500 I.U./kg, Vitamin E (allrac- alpha tocopheryl acetate) 120 mg/kg, Taurine 1.520 mg/kg, Choline Chloride 2.600 mg/kg. Manganous Sulphate Monohydrate 60 mg/ kg (Manganese 20 mg/kg), Zinc Oxide 125 mg/kg (Zinc 90 mg/kg), Cupric Sulphate Pentahydrate 30 mg/kg (Copper 7,8 mg/kg), Ferrous Sulphate Monohydrate 215 mg/kg (Iron 65 mg/kg), Sodium Selenite 0,30 mg/kg (Selenium 0,12 mg/kg) Calcium Iodate Anhydrous 1,60 mg/ kg (Iodine 1 mg/kg). Amino acids/kg: DL-methionine technically pure 9.077 mg/kg.
Technological additives: Antioxidants.
Should be made available "ad libitum", your cat will ration itself, maintaining its ideal weight. In some cases, like obesity and/or other clinical problems, it is a good idea to ration it, according to your veterinarian's advice and/or following the table provided. It is important that your cat always have fresh and clean water available.