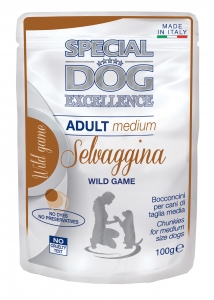 Chunkies with Wild Game – Medium Adult
Weight

:

100 g

Special Dog Excellence Chunkies with Wild Game is a complete food for adult dogs of medium size, aged from 1 to 8 years. A delicious recipe made in Italy,without colorants, preservatives and added sugars.




Nutritional Information
Meat and meat-by-products 45% (of which wild game min. 6%), vitamins, minerals.
Moisture 79%, crude proteins 8.5%, crude oils and fats 6.5%, crude fibre 0.5%, crude ash 2%.
Nutritional Additives: Vitamin A 2000 U.I./kg., Vitamin D3 200 U.I./kg., Vitamin E 5 mg./kg.
Technological Additives: Densifiers and jellifying agents.
For medium size dogs, serve 3 – 4 pouches per day. To be served at room temperature, or warmed. Keep in refrigerator after opening. Do not give the product too cold. Always leave fresh and clean water available to the animal.